Thursday, June 8, 2023
Roland Allen, Mission Strategist, 1947
This Week at Holy Trinity:

Monday June 5
12:05 pm
Noonday Prayers
At the church and on our YouTube channel

Tuesday June 6
12:05 pm
Noonday Prayers
At the church and on our YouTube channel
1:30 pm
Worship at the Prison
Lemon Creek Correctional Center

Wednesday June 7
12:05 pm
Noonday Prayers
At the church and on our YouTube channel
12:30 pm
Healing Eucharist
At the church
7:00 pm
Centering Prayer
At the church and on Zoom

Thursday June 8
12:05 pm
Noonday Prayers
At the church and on our YouTube channel
8:00 pm
Compline
The final church service of the day
At the church and on our YouTube channel

Friday June 9
12:05 pm
Noonday Prayers
At the church and on our YouTube channel

Saturday June 10
12:05 pm
Noonday Prayers
At the church and on our YouTube channel

Sunday June 11
Pentecost 2
8:30 am
Holy Eucharist
At the church
9:30 am
Godly Play
For kids 3 years old and up
(Nursery available for younger children)
10:00 am
Dog Walk (dog not required)
At Sandy Beach
11:00 am
Holy Eucharist
At the church and on our YouTube channel
12:00 pm
Coffee Hour
At the church following the service
4:00 pm
Centering Prayer
At the church and on Zoom
6:00 pm
Worship at the Pioneer Home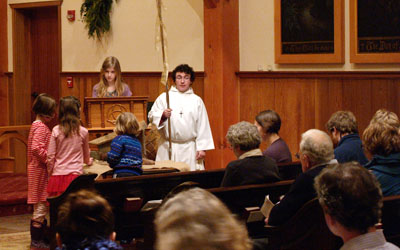 THIS WEEK'S ONLINE SERVICES
Noonday Prayers
Compline
Winter update 3/5/2023
The on-line services continue on our YouTube channel. If you feel uncomfortable in joining in in-person worship, we will be streaming the 11:00am Sunday service, noonday prayer and compline live to our YouTube channel.
With Juneau's Covid level bouncing between low and medium, please wear a mask based on your own comfort level. We are also asking you continue to social distance as different people have different comfort levels.
As we walk the way Jesus walked toward Holy Week, Good Friday and Easter's Resurrection, we welcome you to join us in worship, either in person or on-line.
Now may our Lord Jesus Christ himself and God our Father, who loved us and through grace gave us eternal comfort and good hope, comfort your hearts and strengthen them in every good work and word. 2 Thessalonians 2.16-17
Art, nick-nacks, glassware, and more...
The Mustard Seed Resale Shop is located downstairs at Holy Trinity Church. Proceeds benefit the church's missions.
Hours: Wed-Fri 11:00am-2:30pm